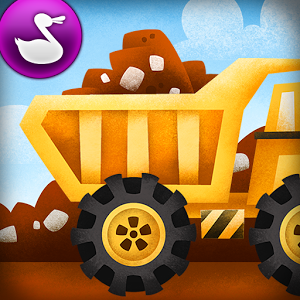 ---
Soap and rinse a car in a carwash, drive a garbage truck, tow a car with a tow truck, and more!
Duck Duck Moose's award-winning educational, creative play app, Trucks has 5 engaging activities: carwash, tow truck, garbage and recycling, bulldozer and dump truck and a car and truck parade. Trucks teaches sequencing, sorting and problem solving. AWARDS: Parents' Choice Silver Award, Children's Technology Review Editor's Choice Award. AGES: 2-6
PLAY CATEGORY: Creative
ACTIVITIES
CARWASH: Roll a car through the mud and into a carwash! Clean the car with
brushes, soap and bubbles. Squirt water jets to rinse off your car then dry it off.
TOW TRUCK: Help fix a flat tire. Use a tow truck to take a car to the tire shop. Raise
the car up to a platform, change the tires and choose the hubcap you want!
GARBAGE
---
App Email:
App Website:
http://www.duckduckmoose.com/
Screen Shots of Trucks by Duck Duck Moose
---